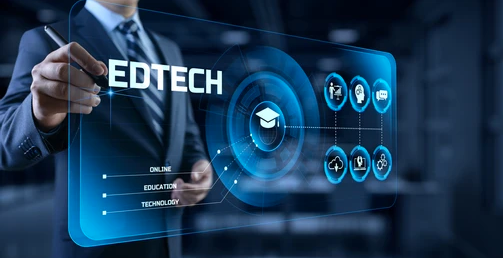 The top five reasons to engage with online learning or Edtech
The online learning industry is growing quite fast, as it easiest, cost effective, time saving and any one can get from any place and anytime.
We all have heard about MOOCs (Massive Open Online Courses), but what are they and how do they differ from other forms of online learning? Here are 5 reasons why you need to be part of this revolution.
1. online education is growing very fast in the world, hence we should also explore its benefits
In 2020, the number of students enrolled in higher education has risen by 3%, while there were around 1.9 million more graduates than ever before. This means that the demand for skilled professionals will only increase over the next few years, which means that there will be a huge gap between the supply and demand for talent. By 2022, there will be nearly 2 million jobs requiring post-secondary education that cannot be filled with current graduates. This makes it crucial to find ways to expand educational opportunities in order for students to gain skills required for new roles. Thus, online learning is gaining popularity among the youth by providing them access to quality education at affordable rates. In addition, it helps students who live abroad, are working full-time, or simply cannot afford expensive travel fees to attend college.
2. It is easy to learn, as it is self learning any time from anywhere .
Online learning allows students to study at their own pace and place and on their own schedule. It saves time and money, as there is no need to commute to school or college or university. You can take your course at home, office, even during your lunch break. The learning experience is always personalized and flexible, allowing students to complete courses without any pressure. Students can choose to learn at their own pace – a great choice if you're juggling family commitments, career goals, and personal interests.
3. It is time saving and cost effective .
As online learning is always convenient and accessible, it is a great option for students who want to advance their careers. Many people start studying online after completing high school, so they can continue studying while working full-time or going back to school to further their education. As most colleges offer free online courses, many students opt to save money on tuition costs by joining an online degree program.
4. It is easy for earning through teaching or tutoring online
As online education offers a unique opportunity to earn a living while studying, it is becoming popular among students across the globe. People who wish to become teachers or tutors have the chance to advance their knowledge by enrolling themselves in a reputable online course. These courses give students a unique opportunity to earn a living through teaching others. They can earn extra income by helping people develop their skills and knowledge, and some even go beyond and teach specific subjects like accounting, marketing, programming, and business management.
5. its a good way learn different skill to use in profession or work as freelance
With the rise of online education, it has become possible to learn new skills that can help you earn a handsome salary. With the right credentials and relevant experience, you can easily set up your own freelance business. For example, you can become a virtual assistant, virtual tutor, content writer, or web designer. Not only does this help you learn new skills, but it also lets you build your professional portfolio. So whether you're looking for a job or just want to earn additional income, online education could help you achieve your dreams.
Among these Edtech a new interesting startup has been started which is a marketplace of Education, you would enjoy visiting it and give us your comments how it could be improved: http://www.Greenedtech.com or https://imarkplace.com/shop-by-services/education-pages.html
So these were the Top Five Reasons to Get Online Learning through EdTech. But What is your reason? Do share those as well with us.
Posted:
November 05, 2022
|
|